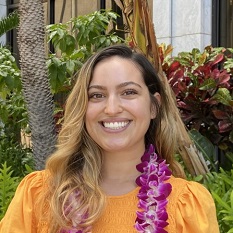 Diana Sarai Gonzales- Compliance Coordinator
Diana's primary objectives as Compliance Coordinator are to ensure the company and its employees are in accordance with state and federal requirements.
Diana was born in Apple Valley, California and later moved to Oahu in 2012, where she received her BS in Human Development and Family Studies from UH Manoa; she then went on to become certified in Healthcare Administration from UH Hilo. Diana has previously worked as a Dental Assistant for 5 years, later becoming a patient service representative at various local hospitals.
Outside of work Diana enjoys playing pickleball on the weekend and taking her Goldendoodle to the dog park. She also enjoys murder mysteries and binge-watching Korean Dramas.
Get In Touch
Please submit the form and we'll be in touch shortly.
Locations
Oahu ( Headquarters )
Bishop Tower
700 Bishop St. Suite 610
Honolulu, Hi 96813
Phone (808)356-HELP(4357)
Kauai
2970 Kele Street
Suite 213
Lihue, HI 96766
Phone (808)356-HELP(4357)
Maui
24 N Church Street
Wailuku, HI 96793
Phone (808)356-HELP(4357)

Hilo
145 Keawe St
Hilo, HI 96720
Phone (808)356-HELP(4357)