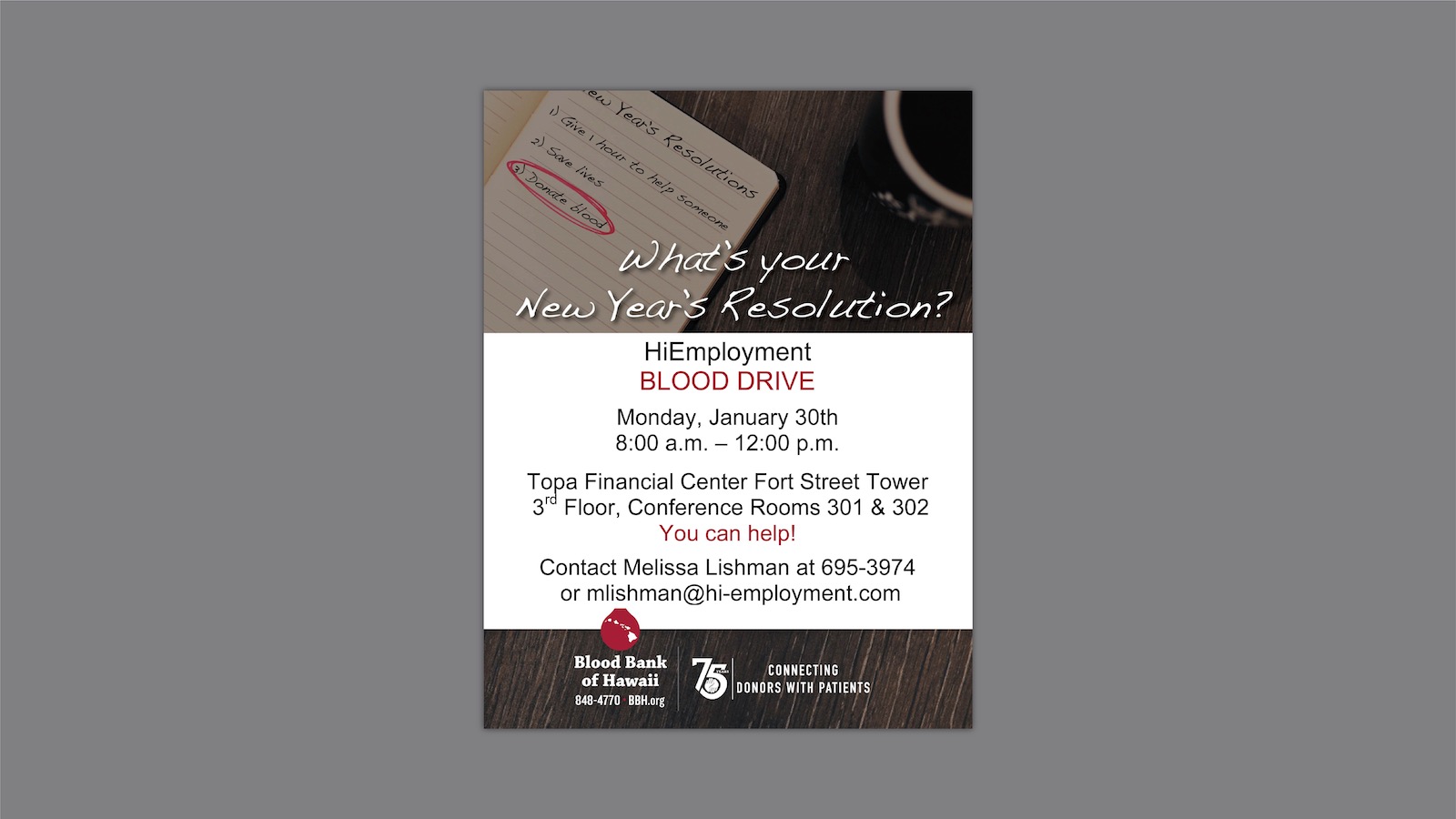 Honolulu – hi-employment.com - HiEmployment, one of the 50 fastest growing companies in Hawaii, will sponsor a blood drive on Monday, January 30th from 8:00am to 12:00pm. The blood drive will be held at the Topa Financial Center, Fort Street Tower in Conference Rooms 301 and 302.
During the blood drive, light refreshments will be provided to all participants. To donate blood, you must be in good health, be 18 years of age or older, weigh at least 110 pounds and have a valid photo ID with your birth date on it. Call the Blood Bank's hotline, 808-848-4770 to sign up for a donation time.
Just one hour of someone's time can save three lives... so donors truly are heroes. Statistics reveal that while only 2% of people donate blood, more than half of the population will have a critical need for donated blood at some point in their lives!
Leading the drive is Sean Knox, CEO & President of HiEmployment. A steady donor himself since 1999, Knox believes the effort is vital to supporting the Hawaii community. "You never know when you or someone you love may need an additional blood supply," stated Knox, who still donates whenever he can. "It's easy to imagine how grateful you would be to those who helped save your life. This is one simple way we can all really make a difference and help others without even opening our wallets."
HiEmployment has worked hard to hardwire the spirit of giving into its culture, giving employees credit for volunteering and giving back to the community.
"HiEmployment is happy to host this life-saving event," Knox continues. "We invite everyone to come on over and donate if you can. And once you give – keep giving," he adds. "Remember, people are counting on you."
One of the major pillars at The Hawaii Group is to give back to the community by supporting those that are less fortunate. The Hawaii Group and its related companies remain engaged in ongoing charitable and community projects throughout the year by:
Encouraging staff members to take paid time off of work to volunteer their services to various charitable organizations, such as assisting those with disabilities, the elderly, helping children, cancer patients, animals, etc.
Knox and other company leaders sit on various non-profit boards throughout the state as well.
Sponsoring fundraising and other events with Blood Bank of Hawaii, Special Olympics Hawaii, and the Scott C. Craun Foundation, where all team members are encouraged to participate.
About Blood Bank of Hawaii:
Founded in 1941, Blood Bank of Hawaii (BBH) is a non-profit organization committed to provide a safe and adequate supply of blood, blood products and related transfusion services to Hawaii's patients. BBH is licensed and regulated by the U.S. Food and Drug Administration, accredited by AABB, and a founding member of America's Blood Centers, the nation's largest network of community-based blood programs. Learn more at www.BBH.org
Get In Touch
Please submit the form and we'll be in touch shortly.
By submitting this form and signing up for texts, you consent to receive text messages from HiHealthCare at the number provided. Msg data rates may apply. You can opt-out at any time.
Locations
Oahu ( Headquarters )
Bishop Tower
700 Bishop St. Suite 610
Honolulu, Hi 96813
Phone (808)356-HELP(4357)
Kauai
2970 Kele Street
Suite 213
Lihue, HI 96766
Phone (808)356-HELP(4357)
Maui
24 N Church Street
Wailuku, HI 96793
Phone (808)356-HELP(4357)

Hilo
145 Keawe St
Hilo, HI 96720
Phone (808)356-HELP(4357)